We are thrilled to announce a groundbreaking development for the ecommerce industry in Vietnam! SwiftHub, an ecommerce fulfillment and logistics solutions, is expanding its reach in the Vietnam market with the launch of a fulfillment center in Ho Chi Minh city.
SwiftHub's fulfillment service is perfectly suited for health and beauty, fashion, home appliances  and other businesses. We handle delicate products with care, ensure efficient order processing, and deliver a seamless customer experience, allowing brands to thrive and scale with confidence.
"Vietnam is one of the fastest-growing internet economies within the Southeast Asian region. The e-commerce market value in Vietnam was forecast to reach 39 billion U.S. dollars by 2025, ranking second only after Indonesia. And more, Order fulfillment is a critical aspect of any business operation, playing a pivotal role in customer satisfaction, business reputation, and overall success. In today's highly competitive market, businesses that excel in fulfilling customer orders efficiently and effectively gain a significant advantage over their competitors. That's the reason why our team and I decided founded SwiftHub to support E-commerce and DTC businesses exceptional fulfillment experiences for their valued customers and partners" — Hoan Tran, Founder and VP of Product at SwiftHub.
Despite being a new start-up, SwiftHub comes prepared with a robust technology platform and a team of experienced professionals who intimately understand the intricacies of the Ecommerce landscape in Vietnam. Our foundation is built on the principles of innovation, reliability, and customer-centricity, setting us apart as a trailblazer in the industry.
A Technology-Driven Approach
At SwiftHub, we recognize that technology is the driving force behind successful Ecommerce logistics. Our cutting-edge platform is engineered to seamlessly integrate with your business, optimizing order management, inventory tracking, and shipping processes. By leveraging automation and data-driven insights, we ensure precision and efficiency in every aspect of fulfillment.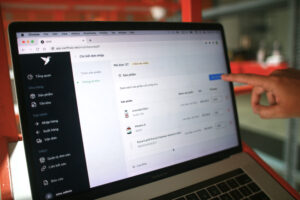 A Team of Ecommerce Experts
Our team of experts brings years of hands-on experience in the Vietnam Ecommerce market. We understand the unique challenges faced by businesses operating in this dynamic region and possess the expertise to navigate through them. From market trends and consumer behavior to logistics regulations and customs, our professionals are well-versed in every aspect that can impact your business.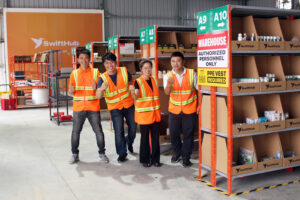 Micro Fulfillment Model
We operate on the Miro Fulfillment Hub model – build things with Small Order Fulfillment in mind to fulfill the order processing needs of regional Sellers and on-time delivery commitments to shopping customers (End -Users) fastest.
Micro Fulfillment is a relatively new approach to order fulfillment that is gaining popularity in the retail industry in Vietnam. It is designed to address the challenges of handling small orders and delivering them to customers quickly and efficiently.
One of the key benefits of the Micro Fulfillment Model is its ability to provide fast and efficient delivery to customers. Since the fulfillment center is located close to the end-customer, the delivery time is significantly reduced. This is particularly important for retailers who offer same-day or next-day delivery options.
SwiftHub's Micro Fulfillment Model is tailored to meet the unique needs of businesses in various industries. We prioritize the care and handling of delicate products, while providing efficient order processing and a seamless customer experience.
Join SwiftHub Today!
As we open the doors of our cutting-edge fulfillment center, we invite ecommerce brands in Vietnam to partner with SwiftHub and experience a new era of efficient logistics and accelerated growth. Our team of experts is ready to assist you at every step of your ecommerce journey, whether you're a startup or an established brand.
Don't miss this incredible opportunity to scale your ecommerce business in Vietnam with SwiftHub's world-class fulfillment services.
Stay tuned for more updates and exciting announcements from SwiftHub as we continue to expand and revolutionize the world of ecommerce logistics!