A Warehouse Management System (WMS) is a software application designed to manage and optimize the operations of a warehouse or distribution center. It provides real-time visibility into inventory levels, automates various warehouse processes, and enables efficient utilization of warehouse space.
A WMS typically includes features such as receiving and putaway, inventory tracking, order picking and fulfillment, shipping and transportation management, and reporting and analytics. It may also integrate with other enterprise systems such as enterprise resource planning (ERP), supply chain management (SCM), and transportation management systems (TMS).
The primary goal of a WMS is to improve warehouse efficiency and accuracy, reduce operating costs, and improve customer satisfaction by ensuring timely and accurate delivery of products. A well-designed WMS can help businesses achieve these goals by optimizing warehouse layout, inventory storage and retrieval, and labor allocation.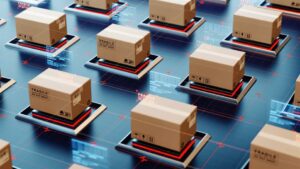 There are several benefits of using a Warehouse Management System (WMS):
Overall, a well-designed WMS can help businesses improve their warehouse operations, reduce costs, and enhance customer satisfaction, which can lead to increased profitability and business success.